Today wasn't a regular day for me, so I'll start my day at 12 o'clock at night to let you understand what is happening. We met up with a Russian girl a little bit earlier the previous day and at this very moment we were enjoying live jazz music in the jazz bar on ulitsa Rubinshteyna.
It started like a normal students evening, drinking a few glasses of beer while enjoying the live music, however I couldn't foresee what was going to happen this night. After a while the 5 of us decided to drink a glass of whisky which wasn't too expensive in dutch terms, however it tasted really good and we wanted to try another one. Anouk wanted to try a specific one, Caol Ila, which in the end costed a lot of money (7 euro per glass). Around 2 o'clock, some of us went home, but Sofia and I stayed behind to enjoy the live music a little bit longer.
She told me that a guy she knew, who worked as a bartender, was working nearby so we got up and went there. When we entered the new bar, he immediately told us to try some shots he was working on. The shots had to be put on the menu for customers to enjoy, but they weren't tested yet. Making one of these shots took a lot of time, because he had to prepare them rather carefully and during the time he made them we conversed about several things. One of those things was a party on a roof somewhere in the northern area of Saint Petersburg. Some opportunities don't come often, so i gladly accepted the invitation and we went there with a taxi. The trip towards the party took half an hour, but it was pretty cheap (9 euros) so we didn't mind.
The party was located on an old factory which was turned into an apartment complex of 6 stories high. The guy who hosted the party lived on the 6th floor and attached a ladder on the side of the building so he could climb on the roof. Curious as I am, I wanted to know where I was, so I opened my phone and used the app, maps.me, to search for the place, only to realise I wasn't anywhere on the map I downloaded earlier. Just as I was scrolling on the map I found out that my phone was nearly empty and that I should texted someone from the committee to tell them where I was. Before I could finish my text message my phone died and only a part of the text was sent. just after my phone died a Russian guy from the party dragged me to a spot where they were drinking. The group he was talking with were really curious about the Netherlands and my experience of Russia. Time flew by as I was enjoying myself with the friends I made at the party and after a while Sofia came to pick me up, because the party was over.
Sofia then invited me to sleep at her place, because the public transport wasn't open yet and we couldn't reach a taxi company. On the way to her apartment, we went to buy breakfast in the supermarket, which was open 24/7 and went to bed.
Because my phone had died and i couldn't charge it, my alarm didn't go off and I was not on time for the first excursion in the Hermitage, but this part will be filled in by a fellow traveller.
When I woke up in the apartment I realized how much Russian people live in their kitchen. The kitchen had everything and you hardly had to use the living room. Sofia, being a industrial design student, decorated the whole place with art she created throughout the years at the university.
As she told me to make myself comfortable I enjoyed a nice cold shower, the shower was cold because the building was having yearly maintenance. When I came out of the shower, Sofia was preparing breakfast and I decided to help her made freshly squeezed orange juice and to lay the table. While we were eating a delicious breakfast, I put my sim card in her phone and texted the committee that I was still alive and wanted to know where i should meet them. After a few minutes, I got a response, said my goodbyes to Sofia and thanked her for her hospitality.
The trip towards the metro was an challenge in itself, because without any map I had to navigate myself to a certain place near the Hermitage. Because I still can't read any Russian and I didn't have my handy SPARK pocket guide, I just asked where the metro was and started walking in that direction, after 30 minutes I finally found the metro and took the metro towards the city center.
When I arrived at the city center, I got out of the metro and asked a bunch of people where the Hermitage was located. Hardly any people speak English, so it was hard for me to understand where I had to go, but in the end i found a person from the military who agreed to bring me there. I gladly accepted that act of kindness and walked with him towards the Hermitage.
After 20 minutes we found ourselves in front of the Hermitage reunited with the rest of the participants and I thanked the guy for leading me there. The participants were given a little bit of free time between the trip to the Hermitage and the boat tour, so there were only 3 people in front of the Hermitage at time of my arrival. When everyone gathered we walked towards our boat tour and we went on a floating dock to wait for our boat to come.
The boat that eventually came to guide us wasn't that big and we hardly fitted on the deck. While there was a place to sit inside of the ship, nobody wanted to do that because the weather was really enjoyable.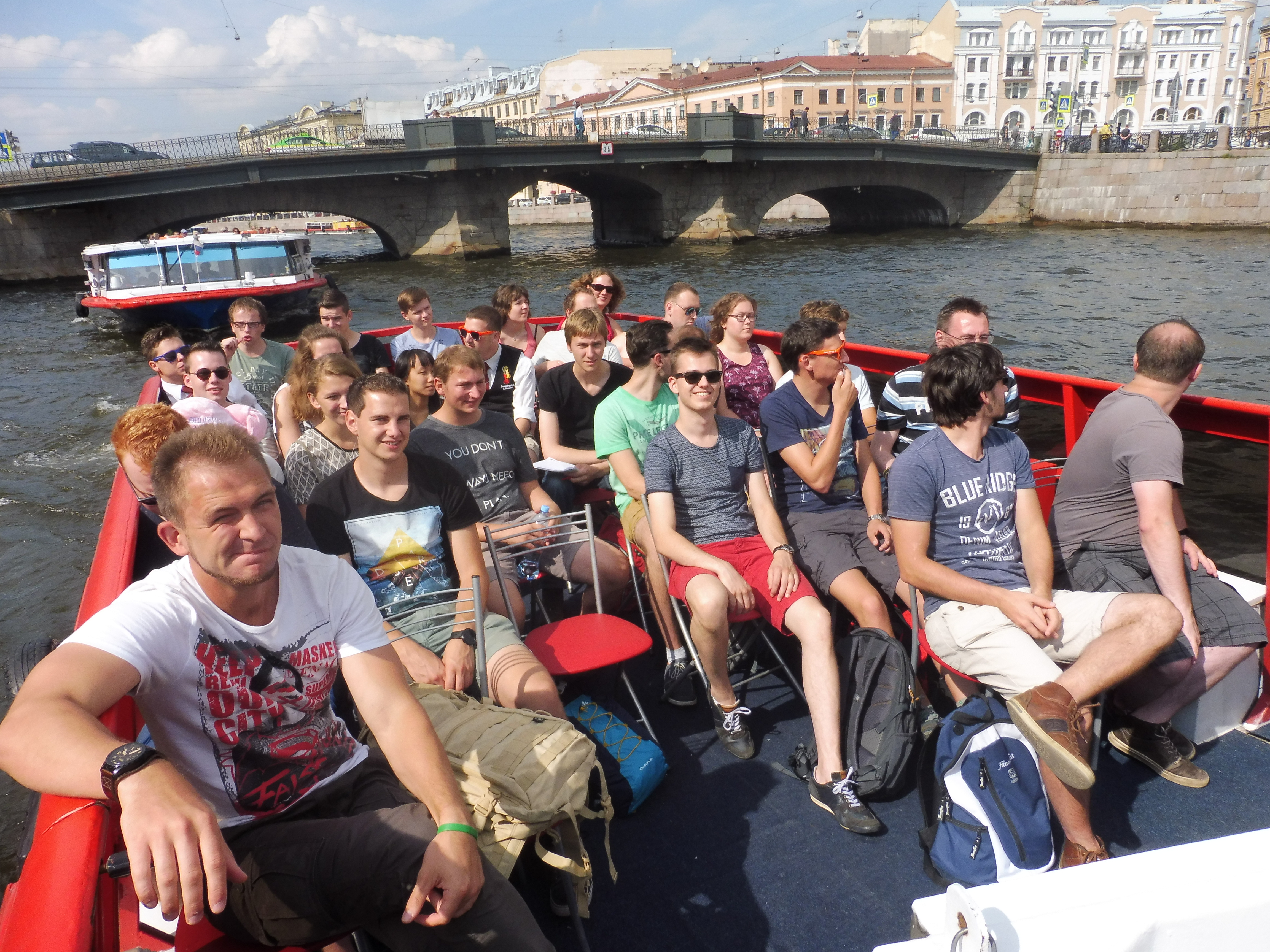 Cruising through the canals with the boat, I was rewarded the "dombo of de dag" hat, which is a hat that is rewarded to the person who made the stupidest action. After I explained my night to everyone they didn't hesitate to give it to me. Because I had to wear the hat for the entire day, many people were staring at me. Shaped like a pink elephant, the hat looked pretty ridiculous and people seemed to like it.
When the boat wanted to go under a brigade, I saw some boys holding a bouket of roses near the edge of the bridge and without hesitation I yelled at them to throw me a rose. Instead of one, however, they threw 20 roses! Jokingly stating that someone should ask a random stranger to marry them, I brought two roses with me when I left the boat.
A random group of Asian tourists passed by and the women were laughing because of my roses and the stupid hat I was wearing. I had to laugh as well and offered a rose to her, the group started laughing really hard and they then wanted to take a picture with me. When the picture was taken the group went to go their own way and we started to look for a place where we could get something to eat.
After a while we found a pizza place and we decided to go inside and eat something Italian. I ordered a calzone, but I just couldn't finish it. Anouk and Sander wanted to order 2 pizza's but the waiter understood that they wanted to share the pizza with the two of them. After enjoying the meal, we went an searched for a place to relax. I wasn't that energetic anymore, so I chose to go back to the hostel and sleep.
– Stijn van Himste